"You have done so much good for me, Lisa- each day I bless you and your ministrations that have given me confidence in what my body can do!" Barbara Keating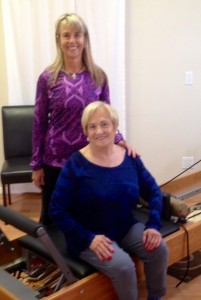 I first began working with Lisa Wilcox more than 4 years ago and immediately I could tell that she was totally dedicated to the promotion of health and the well-being of all her clients.
Being an older person, I had been through several health crises in the several years before moving to Santa Barbara and meeting Lisa. I had spent three months in Los Angeles hospitals having surgery for Stage 3 cancer with six months of follow up chemotherapy. I was hospitalized for four times with acute renal failure and fell breaking my hip necessitating adding a long rod and screws to my hip area. As a side effect of a lot of medication I also gained a good deal of excess weight.
Following the chemo, I had a lot of neuropathy in my joints, especially my hands and feet.
Although I had been diligent about post-surgery rehab for months on end, I had no muscle strength or tone, no flexibility and trouble with balance and energy flagging all the time. I was really depressed by the time I met lovely Lisa.
Lisa gave me exercises, mainly for the ankles, which resulted in my having more mobility in my feet and ankles. I had been plagued by sciatica in my right hip that nothing had seemed to make better for 5 months. Lisa's Egoscue Method practices made the pain simply disappear- like magic, it seemed to me. She has improved my posture and balance, given me endless encouragement and shown me true caring.
Lisa is the professional we all wish we had, but few ever get to have. She knows the working of every muscle group and explains everything in simple terms that stick with you. The home exercise plan Lisa devises are constantly evolving to suit my needs. She is so encouraging and positive, I feel like I can do anything! For me, mere words describing Lisa's talents and inner beauty, are really inadequate.
I could go on gushing about Lisa, but I hope you will come and work with her yourself. Your body and spirit will be enriched beyond measure!
Sincerely-
Barbara Keating,
#1 Fan!!!!
 "My experience of pain relief and strengthening through proper posture alignment has been exceptional"
–Susi Lamoutte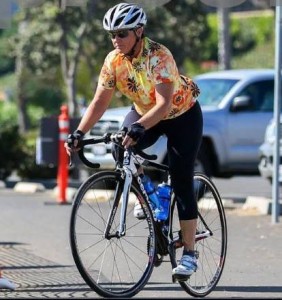 Initially, I began to work with Lisa ten months ago due to pain in my knees, neck, shoulders, and lower back. Previously I had seen a sports chiropractor who was able to relieve my pain effectively, yet it continued to recur. I had been attending spinning classes Lisa taught where she incorporated simple exercises and movement to improve posture which decreased my pain, however, my knee and lower back continued to hurt and eventually my right knee and hip felt like they would collapse.
Lisa's approach to body health made sense so I employed her expertise in posture alignment and the Egoscue method. Initially through photos of my posture she was able to determine some areas of misalignment and weakness causing my pain. Through prescribed exercises my symptoms improved and deeper problems became evident and are being addressed. I have developed a greater understanding of the interrelatedness of my whole muscular-skeletal system, helping me to be attentive to my body mechanics and proactive in building new muscle memory which has eliminated much of my pain.
Presently I am working with Lisa to bring balance and proper interaction to muscle use for both daily and athletic activities. My experience of pain relief and strengthening through proper posture alignment has been exceptional, and I highly recommend her services to address any area of physical pain.
–Susi Lamoutte
"Each of us comes with a different history and expectations of what level of physical fitness we want to achieve. Lisa Wilcox has been my guide on my personal journey back to physical fitness for the last four years. I strongly recommend you come in and let her help get you started on your own journey today. You are going to like the way you feel!" – Bob Childress
"As I watched a number of family members or friends go through the process of aging in America, I did not like what I saw for them-or me as I faced my own future. What bothered me were the seemingly limited options from which they or their caregivers had to choose. Coupled with the debates on public health care cost and quality, I was motivated to look for a better answer for health care. My looking involved reading a number of books and studies over the last few years which has led me to the conclusion that we rely far too much on the health care system for our health. At birth, most of us have hard wired in our bodies the potential for a long healthy life. We just need to activate that potential! Knowledge and regular exercise are two of the keys to activate this natural health care plan. In particular a combination of aerobic and strength training. The research I read, much of it conducted by dedicated medical doctors and researchers, was very encouraging to me and I began seeing the possibility of a new future for my aging experience. I wanted to share what I was learning and I started writing. The article, Tangerines in Winter(Bloom where you are), grew out of my desire to communicate what I was learning"
–Bob Childress
Fitness with More Ease
Lisa Wilcox has been my Pilates and posture alignment instructor for nearly two years. Before I met Lisa, I had chronic back pain and would often be in pain after vigorous Pilates workouts. It all has changed since my first Pilates class with her. A seasoned fitness trainer, she incorporated the principles of Egoscue and emphasized the importance of focusing on achieving postural alignment while exercising in a gentle and mindful way. This was music to my ears. I remember her saying: "If you continue to workout being out of alignment, you will reinforce your body being out-of-alignment." It all made perfect sense and I clearly needed to shift gears."  –Monika Krajewska
"Laura (my 17 yr old daughter), and I have been attending Lisa's classes! We love it! Laura's getting ready to go on a trip to New Zealand and is looking forward to doing the new chair exercises we learned in Lisa's class.She also told me she has found relief of back pain by doing the exercises Lisa has taught us. For myself, I built up tension in my neck and shoulders with all the computer work I've been doing, which compounded to a point of causing my hands and fingers to go numb. I'm feeling so much better, and can turn my head without looking like a zombie.
It's amazing what these "static" exercises can do for you! I've been active – always in P.E. classes, aerobic, karate, fitness training, etc. until the last 20 years, and boy, I'm being awakened to the reality of my aging body and the "use it or lose it" facts of life! I am so thankful that I met Lisa Wilcox, and have been introduced to this whole new approach (new to me at least) to improving my health and relieving pain, and it's sooo easy! In just a couple weeks I felt a difference. We highly recommend the posture alignment classes. Please try it out for yourselves!" –Sandy Goe